Move On
THE COCOON
A man found a cocoon of a butterfly. One day a small opening appeared. He sat and watched the butterfly for several hours as it struggled to force its body through that little hole.

Then it seemed to stop making any progress. It appeared as if it had gotten as far as it could, and it could go no further.

So the man decided to help the butterfly. He took a pair of scissors and
snipped off the remaining bit of the cocoon.

The butterfly then emerged easily. But it had a swollen body and small,
shriveled wings.

The man continued to watch the butterfly because he expected that, at any moment, the wings would enlarge and expand to be able to support the body, which would contract in time. Neither happened! In fact, the butterfly spent the rest of its life crawling around with a swollen body and shriveled wings. It never was able to fly.

What the man, in his kindness and haste, did not understand was that the restricting cocoon and the struggle required for the butterfly to get
through the tiny opening were God's way of forcing fluid from the body of the butterfly into its wings so that it would be ready for flight once it
achieved its freedom from the cocoon.

Sometimes struggles are exactly what we need in our lives. If God allowed us to go through our lives without any obstacles, it would cripple us. We would not be as strong as what we could have been. We could never fly!

I asked for Strength....
And God gave me difficulties to make me strong.
I asked for wisdom.....
And God gave me problems to solve.
I asked for prosperity...
And God gave me brain and brawn to work.
I asked for courage....
And God gave me danger to overcome.
I asked for love.......
And God gave me troubled people to help.
I asked for favors.....
And God gave me opportunities.
I received nothing I wanted....
I received everything I needed!


SHAKE IT OFF AND STEP UP
A parable is told of a farmer who owned an old mule. The mule fell into the farmer's well. The farmer heard the mule 'braying' - or - whatever mules do when they fall into wells. After carefully assessing the situation, the farmer sympathized with the mule, but decided that neither the mule nor the well was worth the trouble of saving.

Instead, he called his neighbors together and told them what had happened and enlisted them to help haul dirt to BURY the old mule in the well and put him out of his misery.

Initially, the old mule was hysterical! But as the farmer and his neighbors continued shoveling and the dirt hit his back . . . a thought struck him. It suddenly dawned on him that every time a shovel load of dirt landed on his
back . . . HE SHOULD SHAKE IT OFF AND STEP UP!

This he did, blow after blow. "Shake it off and step up . . . shake it off and step up . . . shake it off and step up!" he repeated to encourage himself. No matter how painful the blows, or distressing the situation seemed the old mule fought "panic" and just kept right on SHAKING IT OFF AND STEPPING UP!

You're right! It wasn't long before the old mule, battered and exhausted, STEPPED TRIUMPHANTLY OVER THE WALL OF THAT WELL! What seemed like it would bury him, actually blessed him . . . all because of the manner in which he handled his adversity.

THAT'S LIFE! If we face our problems and respond to them positively, and refuse to give in to panic, bitterness, or self-pity . . . THE ADVERSITIES THAT COME ALONG TO BURY US USUALLY HAVE WITHIN THEM THE POTENTIAL TO BENEFIT AND BLESS US!

We can remember that FORGIVENESS - FAITH - PRAYER - PRAISE and HOPE . . all are excellent ways to "SHAKE IT OFF AND STEP UP" out of the wells in which we find ourselves

THE SCARS OF LOVE
Some years ago on a hot summer day in south Florida a little boy decided to go for a swim in the old swimming hole behind his house. In a hurry to dive into the cool water, he ran out the back door, Leaving behind shoes, socks, and shirt as he went. He flew into the water, not realizing that as he swam toward the middle of the lake, an alligator was swimming toward the shore.

His mother-in the house was looking out the window-saw the two as they got closer and closer together. In utter fear, she ran toward the water, yelling to her son as loudly as she could. Hearing her voice, the little boy became alarmed and made a U-turn to swim to his mother. It was too late. Just as he reached her, the alligator reached him. From the dock, the mother grabbed her little boy by the arms just as the alligator snatched his legs.

That began an incredible tug-of-war between the two. The alligator was much stronger than the mother, but the mother was much too passionate to let go. A farmer happened to drive by, heard her screams, raced from his truck, took aim and shot the alligator.

Remarkably, after weeks and weeks in the hospital, the little boy survived.His legs were extremely scarred by the vicious attack of the animal. and, on his arms, were deep scratches where his mother's fingernails dug into his flesh in her effort to hang on to the son she loved. The newspaper reporter who interviewed the boy after the trauma, asked if he would show him his scars. The boy lifted his pant legs. And then, with obvious pride, he said to the reporter,"But look at my arms. I have great scars on my arms, too. I have them because my mom wouldn't let go."

You and I can identify with that little boy. We have scars, too. No, not from an alligator, or anything quite so dramatic. But, the scars of a painful past. Some of those scars are unsightly and have caused us deep regret. But, some wounds, my friend, are because God has refused to to let go. In the midst of your struggle, He's been there holding on to you. The Scripture teaches that God loves you. If you have Christ in your life,you have become a child of God. He wants to protect you and provide for you in every way. But sometimes we foolishly wade into dangerous situations. The swimming hole of life is filled with peril - and we forget that the enemy is waiting to attack. That's when the tug-o-war begins - and if you have the scars of His love on your arms be very,very grateful. He did not - and will not - let you go.

JUST PUSH
A man was sleeping at night in his cabin when suddenly his room filled with light, and God appeared. The Lord told the man he had work for him to do, and showed him a large rock in front of his cabin. The Lord explained that the man was to push against the rock with all his might. So, this the man did, day after day. For many years he toiled from sun up to sun down; his shoulders set squarely against the cold, massive surface of the unmoving rock, pushing with all of his might. Each night the man returned to his cabin sore and worn out, feeling that his whole day had been spent in vain.

Since the man was showing discouragement, the Adversary (Satan) decided to enter the picture by placing thoughts into the weary mind: "you have been pushing against that rock for a long time, and it hasn't moved."

Thus, giving the man the impression that the task was impossible and that he was a failure. These thoughts discouraged and disheartened the man. "Why kill myself over this?" he thought. "I'll just put in my time, giving just the minimum effort; and that will be good enough." And that is what he planned to do, but he decided to make it a matter of prayer and take his troubled thoughts to the Lord. "Lord," he said, "I have labored long and hard in your service, putting all my strength to do that which you have asked. Yet, after all this time, I have not even budged that rock by half a millimeter. What is wrong? Why am I failing?"

The Lord responded compassionately, "My son, when I asked you to serve Me and you accepted, I told you that your task was to push against the rock with all of your strength, which you have done. Never once did I mention to you that I expected you to move it. Your task was to push."

"And now you come to Me with your strength spent, thinking that you have failed. But, is that really so? Look at yourself. Your arms are strong and muscled, your back sinewy and brown, your hands are callused from constant pressure, your legs have become massive and hard. Through opposition you have grown much, and your abilities now surpass that which you used to have. Yet you haven't moved the rock. But your calling was to be obedient and to push and to exercise your faith and trust in My wisdom. This you have done. Now, My son, I will now move the rock."
At times, when we hear a word from God, we tend to use our own intellect to decipher what He wants, when actually what God wants is just a simple obedience and faith in Him. By all means, exercise the faith that moves mountains, but know that it is still God who moves mountains.

When everything seems to go wrong .... . . . . . . .just P.U.S.H.!
When the job gets you down ... . . . . . . . . . . . . .just P.U.S.H.!
When people don't react the way you think they should... just P.U.S.H.!
When your money looks "gone" and the bills are due... . . .just P.U.S.H!
When people just don't understand you ... . . . . . . . . . . . just P.U.S.H.!

P= Pray
U= Until
S= Something
H= Happens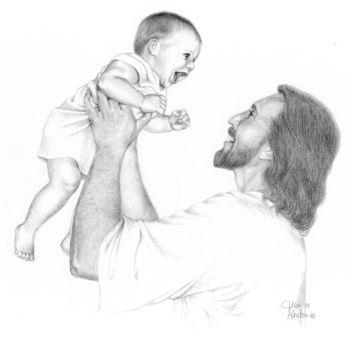 I'LL BE HERE FOR YOU ALWAYS